The sun's Potential is Everlasting
Clear as daylight: Energy transition consists of many small steps that will turn our world into a more liveable and safer place for the next generations. The rising amount of electricity generated by solar plants is an important step towards making the utilisation of fossil fuels unnecessary in future. The sun's potential is infinite. However, we currently only use a small fraction. That is exactly what we aim to change!
Our services include surface preparation, installation as well as management of solar plants. For every free space or roof, we develop a suitable and optimal concept that ensures long term profits.
For each new project, we design a suitable layout plan, obtain the permit for the power line connection and ensure the cable routing. All documents for the building permit application will be drawn up and submitted by us.
---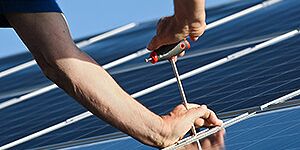 Under our management, the solar plant will be taken care of regarding the administration and technical support for its full life span. Solar energy is quiet, clean and safe.
During the period of 2005 to 2015, we successfully completed photovoltaic projects with a combined capacity of 15 MW. Due to unfavourable conditions in Germany for photovoltaic generation, we have moved our main focus to Latin America where we develop open space photovoltaic projects of different sizes.
---
We do not only talk about, but also practice environmental protection. Out of this conviction, we purchased our first electric vehicle in 2015. We charge the Tesla in front of our company with electricity obtained directly from the solar plant installed on our roof, which is 100% renewable energy and 0% CO2.
---