Welcome to the PLAN 8 Group
PLAN 8 Group consists of PLAN 8 GmbH, PLAN 8 TM GmbH and 20 shares in companies in Europe, Latin America and Africa. Our aim is to drive forward the implementation of renewable energy world-wide.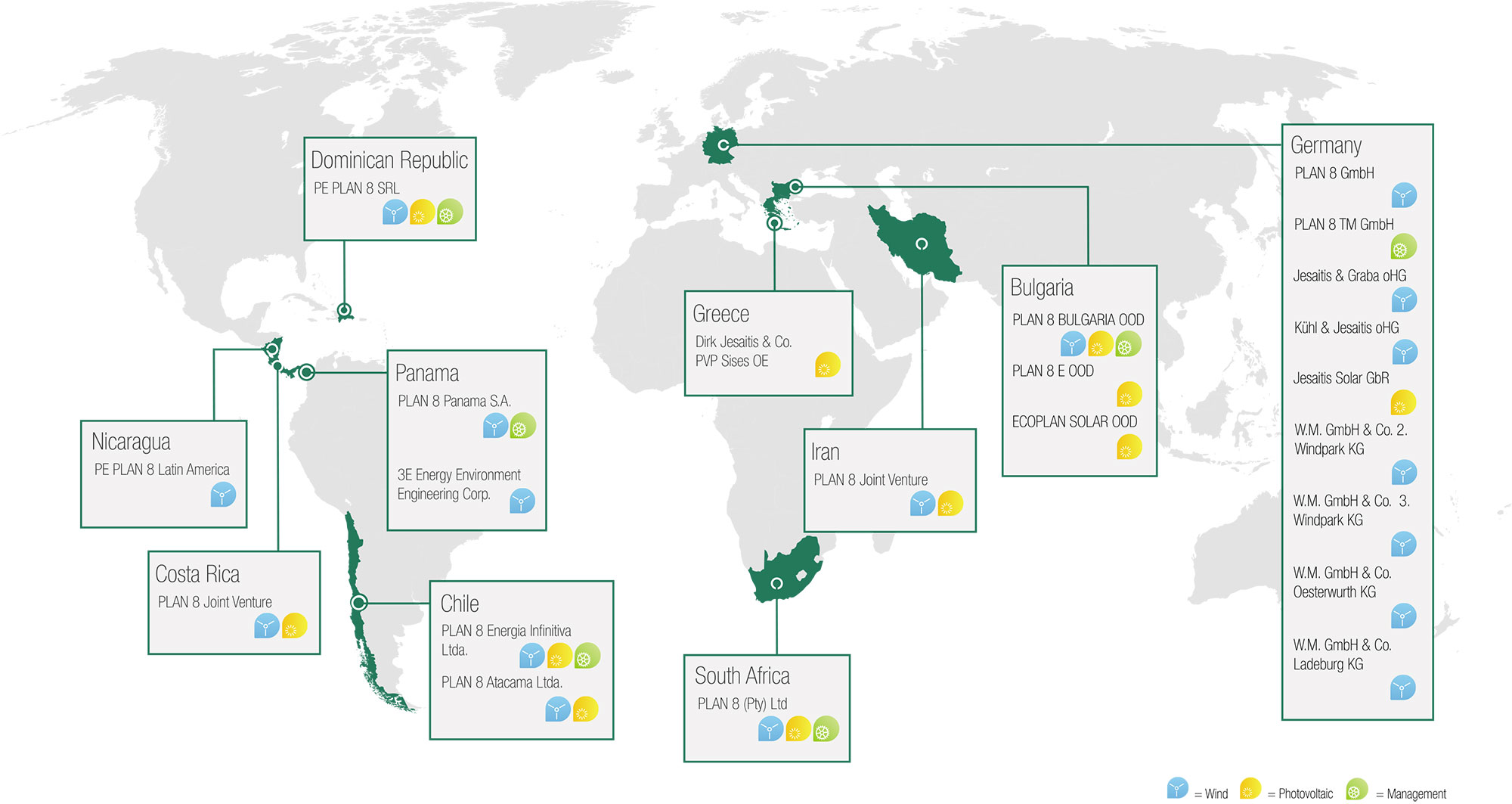 In addition to projects in Germany, PLAN 8 Group also works worldwide. One of these projects was the installation of a small open space photovoltaic plant on the island of Crete (Greece) in 2010. Our main focus areas abroad are Latin America and South Africa. These projects mainly include the development of large wind farms and open space photovoltaic plants.
The roots of the PLAN 8 Group are the family Jesaitis from Wesselburen in the Northern German Province of Schleswig-Holstein. In 1990, both Mr Jesaitis Senior and Junior were pioneers in the installation of the first wind power plants. Dirk Jesaitis is still actively involved as the Company Owner and Managing Director of the PLAN 8 Group.
Trust in our experience and expertise. PLAN 8 Group will be your Partner from the initial idea of the Project to years of running the plant up to repowering your plant.
Get in contact with us!
Phone us to make a personal appointment on:
+49(0)4351-7265-0 or ...
---
PLAN 8 GmbH
PLAN 8 GmbH with its extensive know-how specialises in the planning and installation of wind farms and photovoltaic plants. The core business of the planning bureau in Eckernförde, Northern Germany, is project execution.
---
PLAN 8 TM GmbH
PLAN 8 TM GmbH forms part of PLAN 8 Group since October 2010. The company's expertise regarding technical and administrative management ensures safe running of the plants and an increase in the plants' efficiency. PLAN 8 TM GmbH manages your plants from our locations in Eckernförde and Niebüll in Northern Germany.
---
Our Philosophy
"Environmental protection is an opportunity, not a burden we have to carry"
Helmut Sihler (*1930), Executive Manager, Austria
PLAN 8 Group makes use of the opportunity to combine idealism with economic success.
Personal and political commitment for renewable energy on the one hand and sustainable economic success through fair treatment of all involved parties on the other hand form the basic principles of our business endeavours.
Our aim is to actively contribute to ensuring our common future by installing the largest number of projects possible ensuring environmentally sustainable energy production using the least necessary amount of fossil fuels. Our Company's performance and flexibility combined with the rapid development of environmental technologies as well as a legislation aimed at the protection of our climate allow us to offer lucrative products to meet all our clients' individual requests.
---